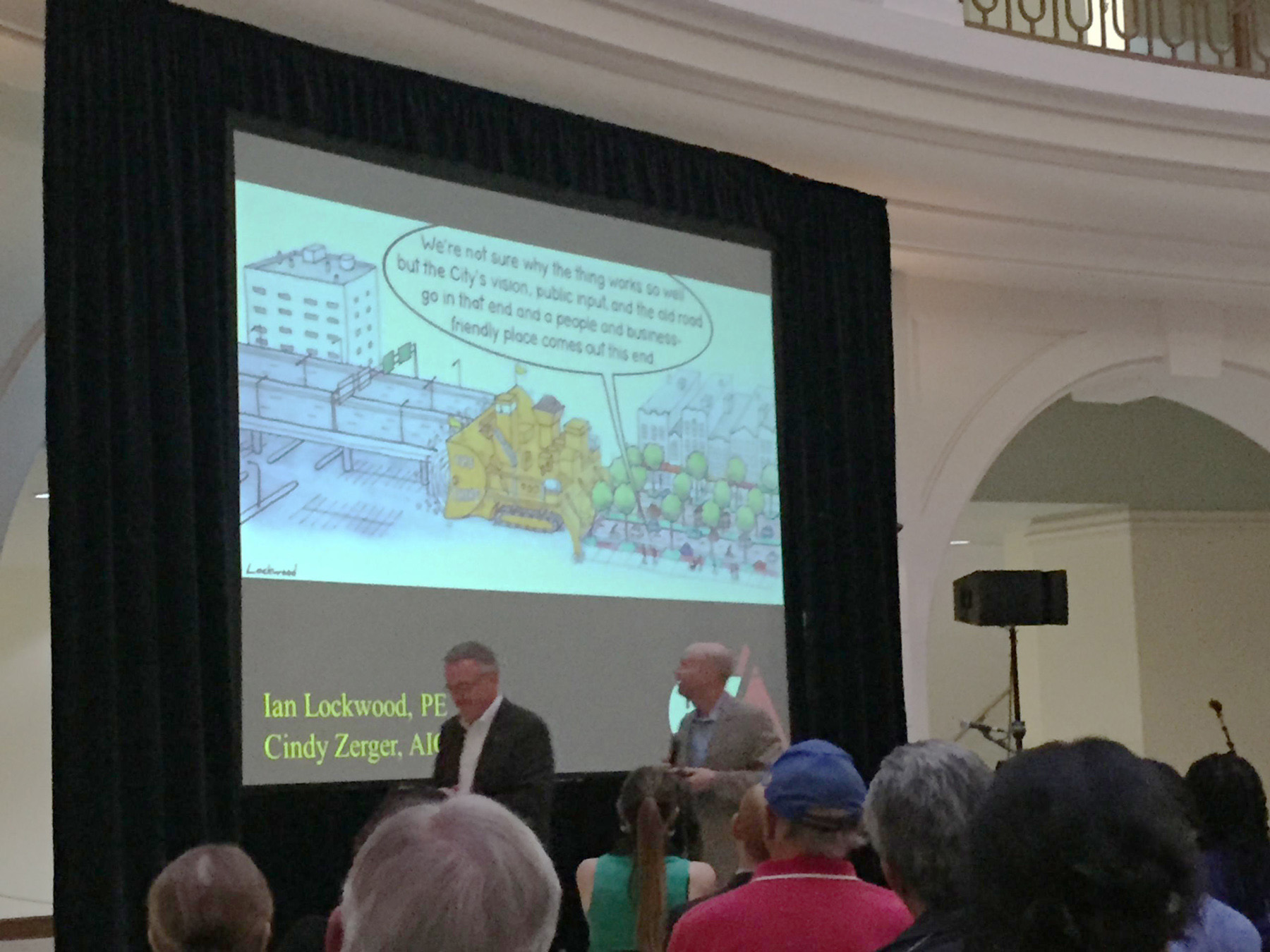 Oakland officially kicked off its Downtown Oakland Specific Plan at an event held in the Rotunda Building on September 3, 2015. The Downtown Specific Plan is a City-led comprehensive effort to lay out a vision for the future of Downtown from Grand Avenue to Jack London Square. The downtown process builds from similar efforts in West Oakland, the Lake Merritt Station Area, and the Broadway-Valdez district.
ConnectOAKLAND has successfully worked to expand the western boundary of the Downtown Specific Plan study area to include I-980. During a presentation to a packed audience, the Downtown Specific Plan consultant team of Dover, Kohl & Partners and Toole Design Group referenced the reimagining of the I-980 corridor a number of times during the presentation.
ConnectOAKLAND remains in contact with the consultant team to advocate for study of the I-980 corridor. This process is an important chance to improve connections for residents of West Oakland and Jack London Square, and to improve quality of life for residents of downtown Oakland and participation by all Oaklanders is essential to get the best results.
Public input will start with a public week-long charrette (collaborative work session) from October 20-27, 2015.
Please make it a priority to attend as many of the following events as possible
October 19, 2015 – Hand's on Design Workshop & Charrette Kick-off – 6pm at the Rotunda Building (300 Frank H. Ogawa Plaza)
October 20 – 27, 2015 – Charrette Open Studio – 9am – 6pm at SPUR Offices (1544 Broadway)
October 24, 2015 – Walking Tour and Open House – 10am at SPUR Offices (1544 Broadway)
October 28, 2015 – Work-in-Progress Presentation – 6pm; Location TBD
Keep tabs on the process at the Plan Downtown Oakland website and use #plandowntownoakland on twitter. We'll see you there!